ROK WITH STYLE by DEEJAY SKAMROK- £5.00 GBP (inc worldwide shipping)
1 hour of the toughest original breaks strictly for the B-Boys and B-Girls.
In this time Deejay Skamrok rocks your mind, body and soul on a musical journey covering 4 decades cutting up killer B-Beats from both classic and obscure Funk, Jazz, and Latin, all the way through to New Wave and everything in between!
You never heard it like this before, guaranteed you'll come back for more... check it out!
(contains 25 individually divided tracks)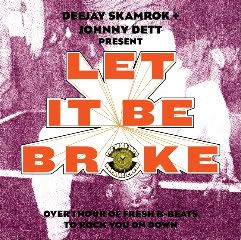 LET BE BROKE by DEEJAY SKAMROK AND JOHNNY DETT - £5.00 GBP (inc worldwide shipping)
It's final here, the long overdue mix CD collaboration from Skamrok and his long time breakbeat collecting partner Johnny Dett! Skamrok sets off the first half of this CD with breaks new and old, classics and obscure jams from around the world, then Johnny Dett kicks in with a full 30 minutes of crazy B-Boy Breaks, many unheard gems! This is a mix not to be missed!
(contains 42 individually divided tracks)
Deejay Skamrok and Johnny Dett.Let It Be Broke Sampler
by
DEEJAY SKAMROK